Blaze Powder
---

Blaze Powder is a material added by vanilla Minecraft. It can be obtained by processing Blaze Rods. However, it can also be created by infusing Glowstone Dust with Destabilized Redstone using a Fluid Transposer.
Thermal Foundation changes the texture of Blaze Powder to match better with those of the three other elemental powders added by the mod: Blizz Powder, Blitz Powder and Basalz Powder. This can be undone in the mod's configuration file.
Crafting
Blaze Powder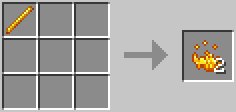 Shapeless Crafting
Blaze Powder
Sulfur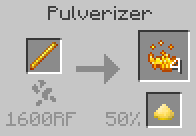 Pulverizer
Blaze Powder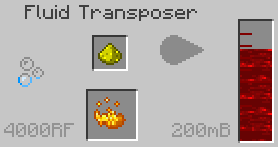 Fluid Transposer
Glowstone Dust
200 mB Destabilized Redstone
Usage
In the CoFH mods, Blaze Powder has several uses. First of all, it is a critical ingredient for creating Pyrotheum Dust, and, ultimately, Blazing Pyrotheum. It can also be used to craft Obsidian Rods. Lastly, it can be used to craft Magmatic Florbs.